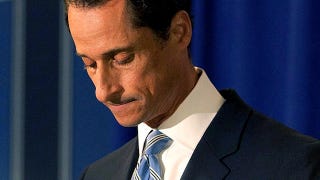 The latest in why-did-Weiner-do-it theories: middle-aged men feel invisible and are forced to commit sexual misconduct as a result. Pardon me if I'm not totally convinced.
In the Daily Beast, Christopher Dickey tells the story of this one spy he had lunch with (yeah, I know) and how he's sad that women don't notice him anymore. He then extrapolates this into a thesis about Dominique Strauss-Weiner-Negger:
For Rep. Anthony Weiner , 46, the fear of invisibility would seem to be so profound that he took to tweeting pictures of his depilated chest and distended crotch to complete strangers on Twitter and Facebook. (The congressman may have worried all his life that nobody would see him, and he's such a geek he'd be pitiful if he weren't so arrogant. One wonders, is Rick Moranis too old to play him in "Weiner: The Movie"?)
So Dickey falls on the nay side of the Weiner hotness question. He goes on to say that "similar concerns about invisibility, articulated or not, probably lurked in the head of 62-year-old Dominique Strauss-Kahn" and that "Schwarzenegger, now almost 64, preferred women who thought he was more beautiful than they, or that he thought might think so; women, that is, who saw him as he wanted to be seen."