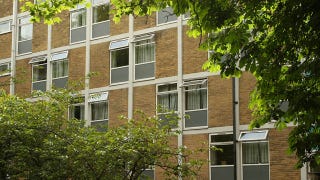 For those of you who never stop thinking of the children, we have good news. The head of Catholic University has come up with a novel idea: Simply get rid of co-ed dorms, and kids will stop boozing and screwing their way through college.
Yesterday in a Wall Street Journal editorial, President John Garvey announced that next year, Catholic University will start phasing out mixed-sex dormitories. Garvey quotes Aristotle in his opening argument that intellect and virtue are intertwined. He then laments that the virtue of college students is threatened by binge drinking and hook-up culture.
We're all aware of the dangers of excessive drinking, and Garvey also presents some troubling statistics on the effects of an active sex life in college, courtesy of the National Marriage Project (which has been known to argue that single parenthood is a threat to our society).