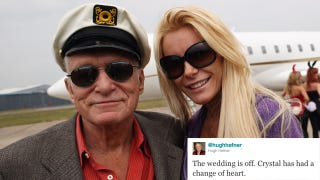 Crystal Harris's very first wedding — and Hugh Hefner's third — had been scheduled for Saturday, but now it may never happen. According to reports, the Playboy Playmate of the Month (December 2009) got into a fight with Hef over the phone. After she hung up, she promptly packed and moved out.
What would make a happy go-lucky 25-year-old gal break up with her rich, famous, 85-year-old boyfriend? Hugh claims Crystal had a "change of heart." But we're skeptical. Something big must have gone down.
Some guesses:
Hugh cheated.
Crystal realized not having a prenup was a huge mistake.
Crystal realized that Hef is not actually avuncular TV character Thurston Howell III.
Crystal realized she was marrying a man who was rather selfish in bed, or, at least, really into taking Viagra, covering himself in baby oil and having a blonde suck his nipple while he watches porn.
They're not actually broken up: It's a publicity stunt to get better ratings for the wedding special, which is supposed to air on Lifetime July 13.
Crystal is pregnant and Hugh wants her to get an abortion (This would be the answer if their life were a plotline from The Young And The Restless).
Crystal had a literal "change" of "heart" when a wise old shaman of an obscure Aztec cult kidnapped her and performed a weird mystical spell splash surgery, giving her the heart of an ancient diety. Crystal — now known as Ayauhteotl, goddess of fog and fame — has renounced her worldly possessions and false lashes and is currently in Mexico teaching children to crochet bikinis.