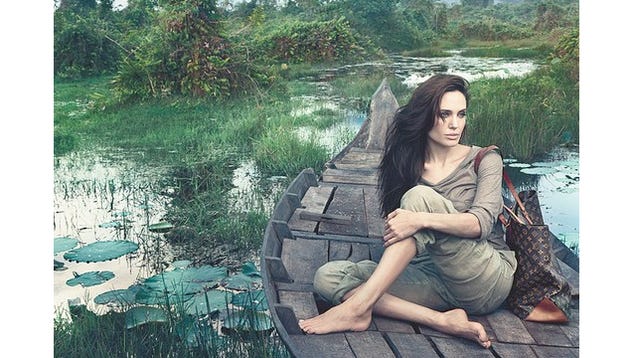 Angelina Jolie's Louis Vuitton ads have been released. The actress, shot by Annie Leibovitz, poses on a boat in Cambodia. Perhaps she is paddling towards another baby in need? Louis Vuitton's PR folks expect us to believe that Jolie was photographed "wearing her own clothes, no makeup and toting her own elegantly weathered monogrammed Alto bag." (The part about the bag, at least, might be true; she was photographed carrying it a few years ago, and that exact style is no longer in production. But the clothes look like Edun to us, and no makeup — who are they kidding?) Jolie was paid a reported $10 million for the campaign; the brand says that she donated "an undisclosed portion" of her fees to "a charity." [WWD]
---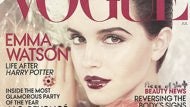 Emma Watson
's July
Vogue
cover has leaked. This is the second cover of American
Vogue
to hit the Internet without authorization in
as many months
— and the first on which someone (the leaker?) wrote
"Piece of shit"
right above "BEAUTY NEWS: REVERSING THE BODY'S SIGNS OF AGING." [
Fashin
]
---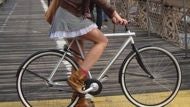 New York City cops, they ain't too smart. One of the city's finest
threatened to ticket a cyclist
for the total non-offense of
biking while wearing a skirt
. On the other hand, maybe the woman is just lucky he didn't decide she needed "help" getting back to her apartment. [
Gothamist
]
---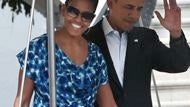 Michelle Obama
wore a
$29.99 Gap dress
as a tunic. [
HuffPo
]
---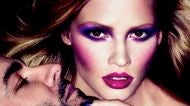 Tom Ford
's first foray into a full cosmetics line comes with this bonus story of a cucumber-related beauty mishap he suffered as a teen: "When I was 14, I had to be taken to the
emergency room
because the
cucumber slices
I had put on my eyes — to camouflage the bags — had made them swell shut. I could eat cucumbers, but my eyes were clearly allergic to them."
Lara Stone
stars in the ad campaign; Stone had, as of one year ago, been contracted to appear exclusively in
Calvin Klein
advertising and runway shows. [
WWD
]
---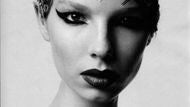 Dutch model
Valentijn de Hingh
came to the industry after undergoing gender-reassignment surgery. Filmed from the ages of 8 to 17 for a television documentary about
gender identity disorder in children
, she ended up getting signed by an agency in Amsterdam. In her late teens, she worked in Paris for designers including
Martin Margiela
and
Comme des Garçons
— without much apparent fanfare about her transsexual status. (Contrast that with the scrutiny leveled against
Lea T
. once she
decided to be open
about her status.) When she reached her full 6'1" height, de Hingh stopped modeling and became an agency booker. But the recent interest attracted by Lea T. and (non-trans, but very androgynous-looking) model
Andrej Pejic
has rekindled her career: de Hingh was shot by
Patrick Demarchelier
for
LOVE
magazine (which featured Lea T. on a cover) and had a booking with
Candy
. [
Vogue Italia
]
---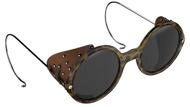 Thom Browne
is getting into eyewear. The result?
$450-$1000
shades that look like antique aviation goggles (that we're pretty sure Kenneth Branagh wore in
Wild Wild West
). [
WWD
]
---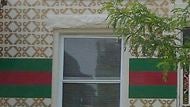 This house in West Philadelphia is painted to look like a
Gucci
bag, sorta. [
MTO
]
---