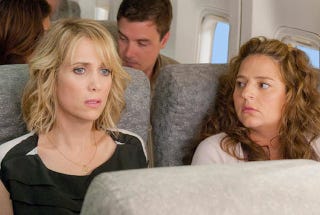 Bridesmaids has passed the $100 million mark, which means you're about to see more R-rated comedies starring, and to some extent aimed at, women.
Incidentally, Bridesmaids' audience was 67 percent female, according to numbers compiled by The Wrap; by contrast, The Hangover II' audience was 51 percent female. They say there is a "growing belief in Hollywood that Bridesmaids may have perfected an even better way to cater to women than the standard — and now flailing — formula chick flick."
That sounds great and all, but proof will be in the examples. Will we get the same old crap, this time with more fart jokes? Paul Feig told us recently that while he'd be happy to have more comedies for women, he hoped that they wouldn't be churned out without regard to quality. Us too.