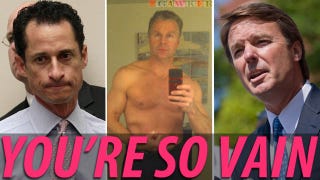 All over the Internet, men are photographing their own bodies and sending the shots to women who are maybe not their wives and girlfriends. It's a risk for most any non-professional, but it's one that predictably costs male politicians like Anthony Weiner — and the men before him — so much more. So why do they do it?
"Hottttt." That's the Facebook comment on a video of Weiner speech that launched Meagan Broussard's Internet flirtation with the Congressman, complete with cockshots clothed and maybe less so. "You're so hot," was Rielle Hunter's opening line to John Edwards; eventually, he thought it was a good idea to make a sex tape with her.
"Sorry. Its all I had," wrote married Republican congressman Chris Lee. All he had was a shirtless photo, which he sent to a woman with a Craigslist personal ad. There went the career of a "family values" politician.