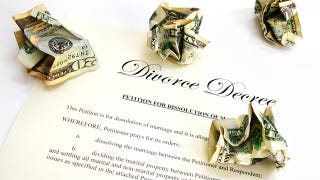 Divorce is no fun for anyone. But a new study shows that it affects men and women in different ways, with women more likely to take a financial hit, and men an emotional one.
According to the Sun-Herald, an Australian study has found that men's incomes go up an average of 20% in the four years following divorce, while women go down 2%. But in the feelings department, women fare better — a year after divorce, 48% of still-single men reported feeling lonely, compared to only 39% of still-single women. Somewhat encouragingly, by four years after divorce, these levels fall to 29% and 28%, respectively.
None of this is completely surprising. The financial fallout of divorce has long been a well-known problem for women. And men's post-divorce loneliness and lack of community have been cited as possible reasons why some men strive to remarry quickly. This bit, though, is pretty interesting: though men make more money after divorce than women do, they're also more likely to describe themselves as "poor." Says study co-author David de Vaus, "It doesn't mean men are just moaning. We don't know what their expenses are."