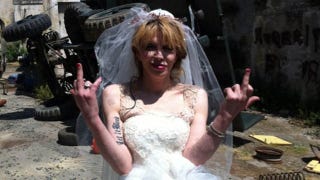 Courtney Love begins her diary feature for xojane.com not with an introduction (as if she needs any), but with claws: "I kind of want to slam Jezebel, but I won't. I'll save it. Because otherwise the Gawker people will torture me for the next two weeks. Because Jezebel I used to read, but then they do slut-shaming." Okay, let's deconstruct that.
I'll admit it: This breaks my tiny heart a bit, seeing as the better part of my teenage years were spent adoring Courtney Love. While all the flannel-clad kids were mourning Kurt Cobain, I was more worried about how Courtney was holding up. And God, did I love Sassy. Then I loved Jane. I read Jane Pratt's magazines religiously. I listened to Hole constantly. In fact, it's highly likely that I consumed the two at the same time, usually while wearing my nubuck Dr. Martens. So here's Courtney Love, slamming our website on Jane Pratt's new website. Metasuck, if you will. Quit making me feel things!
Why does Courtney think this of Jezebel, a site that employs a staff of free-fucking women, including one who notoriously went by the pseudonym Slut Machine? Not quite sure, frankly. Because we don't slut-shame. Plain and simple.
But if I had to pick apart Courtney's brain — a fascinating if not impossible task — here's a guess: Courtney did once go a little ballistic after we published a a post about Hugh Hefner's engagement to Crystal Harris last December. In that post, Jezebel editor Tracie Egan excerpted a passage from a book written by one of Hugh Hefner's exes, in which the author relays Hef's bedroom routine: