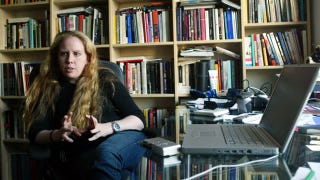 When you are the child of a famous person, media outlets will sometimes ask you to write about that person. This can go a few different ways.
There's the Allegra Huston route, where you write about how even though it was kind of weird that your dad-dad was John Huston but your bio-dad was a guy named John Julius Norwich (apparently very famous in Britain!), they both loved you and you loved them and basically everything was great! From her Daily Beast piece on the subject:
John Julius' visit, his very existence, was never mentioned between us, and I loved Dad more for treating the biological reality as trivial, irrelevant. He loved me no less than his other three children.
At the other extreme, some memoirs expose the horrifying truth behind the glitz — see for instance Mackenzie Phillips's High On Arrival. Then there's a middle path, where the writer isn't accusing his or her parents of anything truly terrible, but clearly still has some bones to pick. Here we find Molly Jong-Fast (pictured), daughter of Erica Jong of Fear of Flying fame.