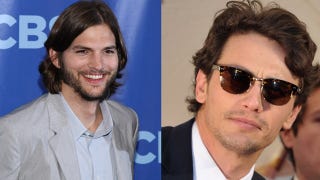 Now that Ashton Kutcher is some sort of high-tech magnate, he seems to be enrolling in the James Franco School of Celebrities Doing Unexpected Other Things. But will the student surpass the teacher? Today we put them head-to-head.
Non-acting endeavors
Kutcher is now an investor in a number of tech startups, including Airbnb, a service that lets travelers stay in private homes and that inspired MSNBC's Overhead Bin blog to write, "Ashton Kutcher wants you to stay with a stranger."
Franco is enrolled in approximately one billion graduate programs, including NYU's MFA program in filmmaking, from which he graduated earlier this month. Oh yeah, and he's a writer.
If his movie roles are any indication, Ashton Kutcher hasn't had to think very much in his primary career. So he has plenty of brain cells left over to devote to his life as a venture capitalist. Also, he loves Twitter. Franco, meanwhile, has his fingers in so many pies that he needs an extra hand grafted onto his butt. Come to think of it, he is probably working on a movie of this. So, advantage Kutcher.
Acting endeavors
Kutcher will be replacing Charlie Sheen on next season of Two and a Half Men.

Franco will star in Rise of the Planet of the Apes, a prequel which opens in August.
Rise of the Planet of the Apes looks totally ridiculous. On the other hand, is not Two and a Half Men. Advantage Franco.
Hosting gigs
Kutcher hosted SNL, and he was okay.