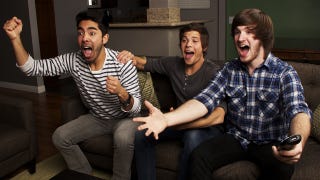 If you haven't noticed that men are apparently sick and tired of women trying to force this whole 'equality' issue on them, you're about to.
A wealth of shows announced at this month's upfronts (where TV networks announce their fall line-ups to advertisers) are tackling the rise of 'wimpy' men who need to "rediscover their masculinity". The following shows are included in the line-up that will likely be coming to a TV channel near you:
How to Be a Gentleman, in which a metrosexual writer hires a trainer to dewussify him; Last Man Standing, with Tim Allen as a ¬sporting-goods-company executive beset by girlie men; Man Up, in which a group of male friends worry they've lost touch with their inner warriors; and Work It, in which two guys dress in drag (à la Bosom Buddies) to land jobs as pharmaceutical reps. Attending the upfronts, I heard references to the emasculated modern man so often, I started crossing my legs.
I could go on and on about how this "Bros Being Bros Who Put Bros Before Hos And Other Words That Rhyme With Bros (maybe something about Bose speakers?)" TV line-up is largely ridiculous and vaguely disturbing, but I'd prefer to address the fact that this issue is arguably just as hurtful to men as it is to women.
What's interesting about the trend is that, in many ways, one of the reasons we keep hearing about the 'masculinity crisis' is because it's being pushed to the forefront under the guise of "Women are becoming too powerful, so men are becoming wimps. We must put a stop to this!"
This mind-set completely ignores the possibility that pushing for a regimented view of what is masculine and what is not is undoubtedly contributing to the 'crisis' itself.
What exactly is it about Tim Allen's co-workers that make them "girlie men"? Do they listen to their wives? Are they "whipped" (ugh)?