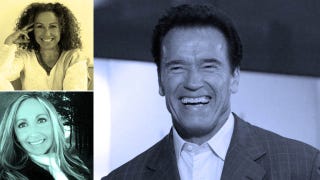 What was it like to accuse Arnold Schwarzenegger of sexual assault and harassment? Two of the women who spoke out just before Schwarzenegger was elected governor told us their stories.
In October 2003, The Los Angeles Times published the accounts of six women, four of them speaking on condition of anonymity, who described sexual bullying and humiliation at the hands of Schwarzenegger in encounters spanning decades. Within days, over a dozen women had come forward, only to be accused of being liars and Democratic plants. The Schwarzenegger campaign even sent out an email to reporters claiming that one woman, Rhonda Miller, had a criminal record involving prostitution and drugs. (It was a different woman of the same name; a judge dismissed her defamation claim, ruling that it had to be held to a higher standard because Miller had made herself a public figure when she held a press conference with Gloria Allred).
With the renewed attention towards Schwarzenegger's misconduct — including an apparently consensual affair with a housekeeper and a California investigation into the misuse of state funds to cover up his dalliances — we wondered what had happened to these women and what they were thinking now.