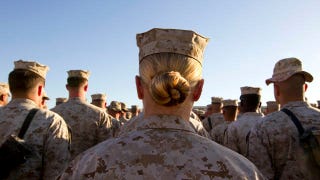 Jessica Kenyon found out she was pregnant when she was summoned by her army commander in Korea and told she would be charged with adultery. In fact, Kenyon says, she'd been raped by another soldier. And the only way to get an abortion would be to leave the country.
Under current Department of Defense policy, servicemembers and their families can't use their insurance to pay for abortions. A separate policy prohibits abortions from being performed in military facilities even when using private funds.
Kenyon's options were few. "I wasn't ready to handle a child, especially a child produced that way," she told me. With few exceptions, abortion is illegal in South Korea. In desperation, she began asking EMTs for home remedies to induce abortion.
She hadn't previously reported the rape, after having been ostracized and blamed when she reported her instructor for sexual harassment back in the States. "That case was handled so badly that reputation of being a squealer from his harassment followed me to Korea," she told me.
In fact, the first thing the sergeant in Korea told her was that he'd been warned about her. "Reporting a sexual assault in the military is a career ender at this point," Kenyon said. "Even if they don't forcibly take you out, they will make the rest of your career a living hell. (She is currently a plaintiff in the lawsuit against the Department of Defense for how it treats victims of sexual assault.)