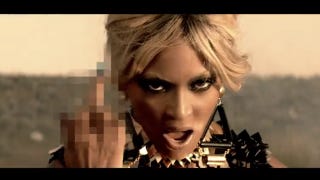 Beyoncé is an amazing entertainer. There is no doubt about that. Energetic, precise, focused. But is she original? Not necessarily. Moreover, her message of female empowerment misses the mark.
There's nothing wrong with being inspired by art, but some recent performances seem to be imitations and duplications of other, specific artists' work.
Let's start with the "Run The World" video. Directed by Francis Lawrence, the clip involves Beyoncé dancing in a dusty, sandy location beneath an underpass. Posters cover the concrete columns.
In one shot, Beyoncé stands on a desert landscape, holding hyenas on chain leashes.
The concept is very similar to the work of Pieter Hugo, who shot photographs of "hyena men" in Nigeria. One of his most arresting images involves a man standing beneath an underpass, the columns of which are coated with posters. The man holds a leash made of chain, with a hyena on the end. It's one of several photographs in a series.
It's fairly obvious that the director was familiar with Hugo's work. We can't be sure whether or not Beyoncé realized he was appropriating someone else's vision. But if we assume that she didn't, we also assume she just went along with the idea… Odd for a woman singing about running the world. In February, photographer David LaChappelle sued Rihanna for copying his photographs in her "S&M" video, calling it "willful, wanton and deliberate" copyright infringement. Perhaps Pieter Hugo hasn't seen "Run The World" yet?