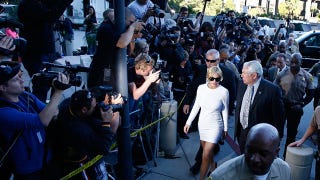 By now we expect that within hours of a celebrity getting arrested, filing for divorce, or even becoming ill, TMZ or Radar will have private documents and quotes from officials posted online. Common sense says sources are getting paid, not volunteering information because they believe it's the public's right to see a star's health records, but exactly how the spoiled, tasteless gossip sausage gets made is a bit of a mystery.
An article in today's New York Times attempts to explain how the minor details of even a C-lister's scandal can be turned into a huge payday. Unsurprisingly, much of it focuses on the Lohans.
Last summer when assault charges were filed against Michael Lohan by his then-fiancée Kate Major, a Times reporter just happened to be staying in the same hotel as Michael, and overheard him concocting a plan to start a bidding war between TMZ and Radar for his side of the story:
"What you have to do is monetize this," the associate said, adding, "What you want is to make them pay for that exclusivity."

Sure enough, Radar went on to post four "exclusives" quoting Mr. Lohan denying the charges and threatening to release tapes of Ms. Major.
Though the National Enquirer pushed the process of paying for celebrity dirt to new extremes in the '80s and '90s, today TMZ and Radar have taken things even farther, sometimes posting several of these "exclusives" per day. (The Enquirer hasn't developed its online presence, though clearly it's still a major player in the gossip world. One picture of John Edwards' love child is worth about 1,000 "exclusives" with Dina Lohan.)
The gossip sites are rumored to pay anywhere from a few hundred dollars to several thousand and up for information. Even more reputable media outlets may have worked out a way to pay sources:
Network news divisions sometimes pay interview subjects "licensing fees," ostensibly for photographs or video. ABC News, whose rules allow payment for material used on air but not for interviews, acknowledged paying the family of Casey Anthony, a murder suspect, $200,000 for home video and pictures. A lawyer for Ms. Anthony said in court that the money went toward her defense against charges that she had killed her 2-year-old daughter.
That may sound familiar because Good Morning America claimed last week that it agreed to pay a $10,000 fee for photo rights to the possibly-fake "Botox Mom" story. She says she was promised a "large fee" to do the interview.