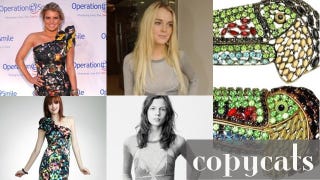 The news that O.G. socialite-turned-HSN costume jewelry designer Iris Apfel's creations are less than original should — to anyone who pays attention to the celebrity clothing line industrial complex — be less than surprising. The story here is that Apfel, whose taste in jewelry is deservedly famous, was approached to do a line for HSN. Apfel apparently did what most celebrity "designers" do: she turned over some of her own favorite pieces to be knocked off. And when it comes celebrity designers, this is far from the first time that's happened.
No sooner had the first images of Apfel's HSN line hit the Internet than the jewelry designer Hanna Bernhard identified one of Apfel's pieces, a jeweled toucan brooch, as a knock-off of her own work.
And yes, Apfel does own the Bernhard original in question. Here she is photographed wearing it. Oops! On the top right is Apfel's pin for HSN; on the bottom right is Bernhard's.
When Jessica Simpson launched her prom dress collection this past February, for example, she had her people knock off a Carolina Herrera gown she wore to a gala event in January of 2010. Simpson is a repeat offender: her shoe license knocked off Sergio Rossi in 2009.

Kate Moss's Topshop line — at least prior to its cancellation — was a seasonal game of designer hide-and-seek. Moss didn't even seem to mind when she was photographed wearing the originals rather than the knock-offs.