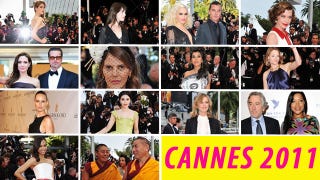 The big names showed up at the 64th Annual Cannes Film Festival for premieres like Tree of Life, Melancholia and La Conquete with looks ranging from glamorous to grim.
Color aside, Angie's dress had an '80s prom vibe. Other than that, this couple looks so fucking flawless that they don't even look like real people. Those may as well be Madame Tussauds wax figures.



Also at the Tree of Life premiere were Gwen Stefani, her husband Gavin Rossdale, and her breast plate. I like that she wore a pantsuit romper, but I'm assuming that it must've been impossible for her to urinate all night, because of how the lapels are taped to her skin to avoid a nip slip.



What else can be said about Zoe Saldana's dress other than the fact that it's gorgeous and not boring?



Fan Bingbing just knows what she's doing. For me, she always strikes a perfect balance of classic glamor edgy humor. I'm a Fan fan at Cannes.