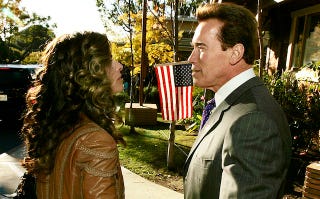 Regarding the news that Arnold Schwarzenegger is getting divorced, in part because he fathered a child with a woman not his wife, Conor Friedersdorf at The Atlantic writes, "I've yet to encounter anyone surprised by the news. It's because we remember. Eight years ago, on the eve of the special election that won him the statehouse, the Los Angeles Times published a scathing story about his groping problem."
I didn't remember, actually, since I was living in Canada at the time, not yet engaged with the feminist blogosphere and, as always, completely uninterested in Schwarzenegger news. So this morning was the first time I learned that, as James Rainey recalled in the L.A. Times earlier this week, "Eventually, a total of 16 women, 11 of them giving their names, described physical humiliations suffered at the hands of [Arnold Schwarzenegger]."
How did the public react to this news–apart from electing him anyway, right after they learned about the first six women to come forward? "Some accused the paper of a politically motivated attack, meant to hurt Schwarzenegger and prop up the struggling Davis," writes Rainey. "They complained with particular vehemence about the timing of the story, published five days before the recall vote. At least 10,000 subscribers cancelled the paper, according to executives who were with the paper at the time."
Of course they did.
Hey, here's a bizarre thought that just popped into my head: Could folks maybe quit writing and/or publishing articles suggesting that Dominique Strauss-Kahn has historically gotten a pass on sexually assaulting women because that's just how the French say howdy, but uptight, puritanical Americans would totally never let a powerful man get away with a pattern of unwanted groping? Because I'm pretty sure Schwarzenegger is a perfect example of uptight, puritanical Americans doing the exact same thing.