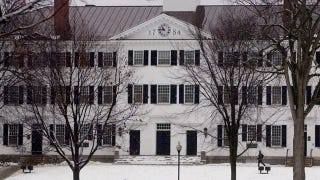 After an altercation between two students in a fraternity basement last weekend, Dartmouth sororities have enacted a stringent new policy requiring frats to discipline members accused of assault or face social isolation. But not everybody thinks it's a good idea.
According to The Dartmouth, a fraternity member and a female student got into an argument at the frat house on Saturday, May 7. The woman threw a drink in the man's face — comments on the article suggest that he had said something "beyond rude" to her. The man then threw a bottle at the woman and pushed her against a wall. Some students apparently felt that the fraternity was turning a blind eye to the incident. In response, the presidents of Dartmouth's eight sororities issued the following new policy:
From now on, if we become aware of an alleged assault or threat committed by an affiliated student, we will notify his or her organization, after which the organization has 24 hours to initiate an investigative response. If the organization fails to do so, all eight Panhellenic sororities will cancel any joint events with that organization until it has taken action and finalized a response. In addition, if an organization becomes aware of an alleged assault or threat and does not communicate with us, we will consider their silence a violation of the transparency needed for Greek officers to ensure the safety of their members. In this event, we will suspend joint programming with that organization until internal procedures are finalized.
Basically, sororities will cease all official social contact with frats that try to sweep assaults under the rug. The policy is reminiscent of the "shunning" solution suggested by a group of philosophers for dealing with professors accused of sexual harassment. Both seem to be motivated in part by a sense that the university's official channels are insufficient, either because they aren't being used or because they don't adequately address all social situations in which students find themselves. Writes Ellie Sandmeyer, president of Dartmouth's Panhellenic Council,