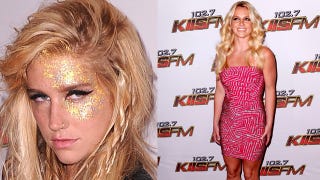 Most celebs dressed down for Saturday's day-long concert event at the Staples Center in Los Angeles, with varied results.
Britney was the special guest host this year. Anytime she doesn't have her extensions messily gathered into a ponytail or isn't wearing something with Starbucks stains on it, it's kind of a win for her. Still, one deep look into her face and all you can see is that dead-eyed, "Time to make the donuts" vibe. It's kind of sad, in some instances, when life imitates art (minus the glamour).



Do you think this is Jordin Sparks' purity ring? I hope she doesn't hurt herself climbing up on her "Sluts are bad!" soapbox in those shoes.