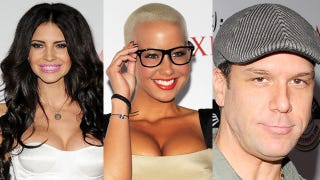 We're not the typical demo for the Maxim Hot 100 list, because if we had penises we'd be men enough to buy a magazine with actual nudity to jerk off to. But since there must be clothing, and we must be ladies, we must judge what everyone is wearing. What lies ahead is not good, and we're not going to pretend it is.
Playboy Playmate of the Year and former Celebrity Apprentice contestant Hope Dworaczyk has figured out the best blow job deterrent known to man: Paint your lips like you have some indeterminate STD.



Yikes! Two women—Kelly Kelly and Casey Durkin—actually thought it would be a good idea to show up as figure skaters. So, who wore it worst?



Keri Hilson looks feral with no bra and nails filed into sharp claws.



Speaking of manicures, Kelly Rowland is sporting a look that my mother-in-law would refer to as "funky" or "different," which is her way of saying "weird" or "ugly" without hurting my feelings.



Give it up for Victoria's Secret model turned actress Rosie Huntington-Whiteley, who was one of the few women to wear a high neckline and a knee-length hemline but still managed to be the hottest at the party.



When I was little, every summer a very trashy carnival would roll in to a neighboring town, and it was always a delight to attend. They had this game where you throw darts at balloons and if you broke even one, you would receive a clip with feathers and beads attached. I would always play the game, because I loved winning that clip and wearing it in my hair, just like the carnies did. It wasn't until I was much older that I realized that they were roach clips, not hair accessories. Do you think Molly Burnett knows this?



Quinton Aaron is once again sporting his trusty rape whistle. Meanwhile, Dane Cook needlessly went out of his way with that golfing hat to look like the lecherous old man at the young, hot chicks party.