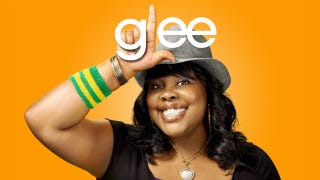 There are so many romantic pairings on Glee that keeping straight which guy is angry at which girl for cheating on him earlier in the season can be hard to follow. So, why is Mercedes the only main character who's never had a boyfriend for more than one episode?
Mercedes, who's played by Amber Riley, is one of the show's most talented singers, but she's never really had a multi-episode arc. Occasionally she fights Rachel for a solo or campaigns to keep tots in the school cafeteria, but her issues are usually wrapped up within the hour. On XHIBIT P, Lara Frater argues that this is because of her size. She writes:
In addition to typecasting fat women's romance and relationships, television shows also portray fat women's sexuality as being either non-existent or hypersexual. Lauren personifies the hypersexual fat woman; the fat woman who uses sex to get attention. While she might claim to be confident, Lauren desires to become famous by any means necessary, including degrading herself. As for Lauren, sexual discourse seems to be the prevalent theme in each of her appearances in the show, although her sexual history isn't sufficiently disclosed or addressed. In Never Been Kissed, Lauren wants to make a sex tape during her first time with Puck-a desire that eventually gets shot down when she learns that would be considered child pornography...

In contrast, Mercedes and Shannon [Beiste] represent the non-sexual fat woman. Amber Riley, who plays Mercedes, has an incredible voice-arguably the best-but can't get a date or love interest to save her life. As a character, Mercedes has yet to be developed. Unlike her voice, Mercedes' character is lackluster. Two seasons have come and gone, yet Mercedes remains the same character whereas other main characters such as Finn, Rachel, Quinn, Kurt, Brittany, Artie, Tina, Santana, even mean Sue Sylvester have changed and grown. Like many fat woman in TV and movies, Amber plays the supporting character, never the main, despite being a regular on the show.
Lauren's relationship with Puck has been controversial, but we actually like that (eventually) the show portrayed Puck's attraction to Lauren as normal. Lauren also seems to be confident about her body and her sexuality, not someone who'se using sex to get attention. As for the show's "non-sexual fat woman," it's frustrating that Mr. Schue can only kiss Coach Beiste as a weird favor — certainly he'd never consider dating her, even though they're close friends. But, is Mercedes being non-sexual really a problem?