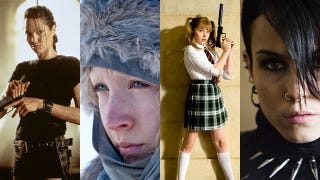 Action heroines are rare creatures. The earliest were female versions of pre-existing male heros, like Wonder Woman, BatGirl and SuperGirl. Some more recent heroines have their roots in fantasy or sci-fi, like Buffy The Vampire Slayer, Selene from Underworld, or Alice from Resident Evil. But while there are plenty of realistic male heroes who run, jump and fight without being cartoony or existing in a vampire realm — think Jason Bourne, James Bond or Ethan Hunt — there are very female counterparts.
Deadline reports that a writing team has been hired to reboot the Tomb Radier franchise. These writers — the Iron Man and Cowboys & Aliens writing team of Mark Fergus and Hawk Ostby — are male. Can they come up with a good female action hero? Maybe. We need to define what we mean by "good."
First of all, it would be great if she could exist in the here and now. Today's world. Not the future, or some kind of Underworld, or a mythical town in California set upon by vampires. Usually women are allowed to be heroes in those scenarios because, duh, it's not real. It's fine for a woman to be strong and know how to shoot to kill if werewolves or aliens are involved. She might even do it in her underwear, like Ripley.
Although — when it comes to being scantily clad, I'm fairly forgiving. In my opinion, Lara Croft, as played by Angelina Jolie in the original Tomb Raider movies, was a fairly good action hero. Modern! Smart, fearless, physically and mentally strong, with a career and a libido. Too often, strong women in TV and movies are rendered sexless. They're either buttoned-up business ladies, stoic workaholic cops, or girls under the age of 18. Lara Croft was definitely a grown-up. Her enormous breasts and short-shorts may not have been essential to the story, but I liked that she was unabashedly sexy while kicking ass. Some of my favorite action heroines are tinged with sensuality. Pam Grier was bikini-clad while wielding a gun in blaxploitation film Coffy. Faith on Buffy fought vampires in tight vinyl pants. The infantilizing sailor suit Babydoll wore in Sucker Punch sucked, because, unlike Lisbeth Salander's tight jeans, Franka Potente's red hair in Run Lola Run or Leeloo's bandage jumpsuit in The Fifth Element, I didn't feel the character owned the costume. It felt like it was plopped on the actress by the director. And it was. The actress has a lot to do with how believable the heroine is. As Deadline points out:
Beyond getting a strong script and filmmaker […] the challenge will be combing the list of up-and-coming actresses to find the next Jolie. Then again, that's the gambit for The Hunger Games, with Lionsgate and director Gary Ross betting big on Oscar-nominated Winter's Bone star Jennifer Lawrence, who'll next be seen playing a young Mystique in X-Men: First Class. Who among the younger actress set would make a great Lara Croft?
Good question. They will never cast her, but Gugu Mbatha-Raw was completely captivating as a brilliant, sexy, capable spy in J.J. Abrams' short-lived series Undercovers. She'd be an awesome Lara Croft. So would Noomi Rapace, who played Lisbeth Salander in the Swedish version of The Girl With The Dragon Tattoo. Maggie Q from the CW's Nikita would also be an inspired choice. But the truth is, it's hard to think of many actresses who could be take on an action franchise, since so few actresses ever get the chance to show us that side of themselves.