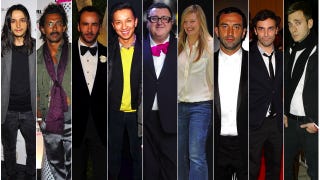 On the night of Thursday, February 24th, John Galliano was arrested for allegedly launching into racist and anti-Semitic tirade against two strangers at a Paris bar. Within hours, two more alleged victims of Galliano's hate speech had come forward to police, and a notorious video of Galliano drunkenly slurring, "I love Hitler — people like you would be dead, your mothers, your forefathers, would all be fucking gassed," had been published by the Sun. And within days, Christian Dior — the fashion house whose aesthetic Galliano had defined since 1996 — had fired him. And now, nearly two months later: crickets.
There was an initial flurry of rumors during Paris Fashion Week, when the Dior and (also LVMH-backed) John Galliano collections were shown to the press and buyers under the watchful eye of Christian Dior C.E.O. Sidney Toledano. But since then? Barely a peep. Bernard Arnault, the head of Dior's parent company, Louis Vuitton Moët Hennessy, seemed unconcerned by shareholder questions about the slowness of the search when presenting quarterly earnings results — and that was nearly a month ago. Meanwhile, Dior's cruise collection is due to be shown to buyers in early summer, and couture — freaking couture — is due in July. What is Dior waiting for?
An article in today's Women's Wear Daily sheds some light on the search. The main decision-makers are Arnault himself, who regards Dior as one of the biggest jewels in his crown of luxury brand acquisitions and naturally takes a close interest; Toledano, who has helmed Dior since 1998; and Arnault's daughter and heir apparent Delphine, who has been a deputy managing director at Dior since 2008.
Arnault deputized his advisers to assemble a longlist, which apparently includes (or once included) everyone from Givenchy designer Riccardo Tisci (Givenchy is a traditional launching-pad and training ground for Dior; Galliano came from there, and Tisci is said to be "lobbying" for the job), Tom Ford, ex-Dior Homme designer Hedi Slimane, former Rochas and Nina Ricci designer Olivier Theyskens, Balenciaga's Nicholas Ghesquière, Lanvin's Alber Elbaz, Haider Ackermann, New York-based up-and-comer Prabal Gurung, and Alexander McQueen's successor, Sarah Burton. (Many of these names are the same as the original slate of rumored candidates from two months ago.)