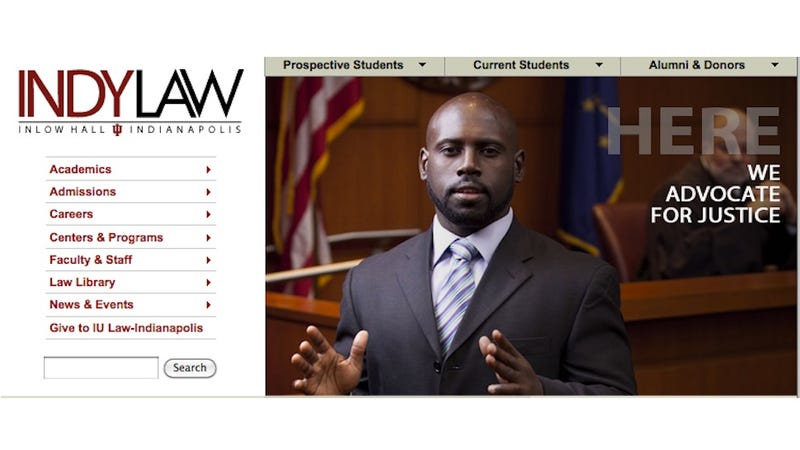 Yesterday, an anonymous law student sent an email to the Indiana University at Indianapolis law school community complaining that there were too many black men represented in the school's public materials. This, according to the email first published by Above The Law, forms a "situation of concern to me which affects us all."
Why is that? "These banners are not a fair representation of the school. We should support diversity, not just African-American males." (You can see what s/he appears to be referring to on the school's website, which also includes images of another black man, a white woman and Asian women in one shot, and a hilariously staged-looking older white woman shaking the hand of a bowtied black man.)
Also, the emailer alleges that black students are also given disproportionate assistance by career services because of its leadership:
Is it perception, or reality that since the Office of Professional Development (OPD) has been run for the last few years by African American females that people of similar ethnicity are afforded greater assistance and the best opportunities to succeed? It is a pervasive opinion that the OPD offers more assistance to members of certain groups. Is this how our institution is to be regarded?
The email follows a boilerplate of the high-end variant of racism (see also Grace, Stephanie): The cloaking of pseudo-intellectual language (with exaggerated reliance on the passive voice); the vague awareness that Racism is a Thing but I'm not racist (including the co-opting of the language of diversity); the belief that one's all-too-mainstream view is so bold and brave (except for the whole anonymous email thing). There's the sentiment present in all forms of racism: The misplaced sense of grievance, itself a form of entitlement. Oh, and s/he signs it, "The Invisible Man." A sign of true oppression!