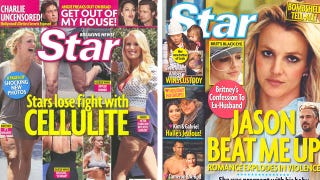 After four years on the job, Candace Trunzo, the editor in chief of Star magazine, was fired on Monday, and a new EIC, Radar Online's David Perel, has been brought in. Perel used to work for the National Enquirer, and a source told WWD that Perel would plans to make Star "increasingly anticelebrity and mean."
All staff who are reputable or proper have left. Staff are really worried," wrote the source in an e-mail. "They don't want to work somewhere so negative."
The question, of course, is: How could Star get any meaner? Let's take a look at some recent covers, shall we?
March 9, 2011: "Rock Bottom." This cover story alleges that Christina Aguilera — going through a divorce — has been "numbing herself with booze and food." She's "in denial" and "seriously depressed," and a doctor who does not treat her claims: "She looks about 40 lbs. overweight." There's actually no evidence that Christina hit rock bottom; she looks fairly happy to be on new show The Voice, and if there's a woman alive who hasn't dealt with a breakup by drinking at eating, she is probably a robot clone from outer space.