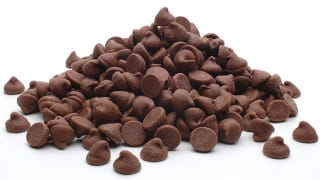 Whether it's giving up sex for a younger face, or years of their lives for thinner thighs, the media loves a story about ladies renouncing shit. It's time for us to give up giving up.
Today, Glamour asks,
If you had to choose one thing to give up forever between makeup and chocolate, which one would you say goodbye to?

On the one hand, chocolate: So creamy, so delicious. And on the other, the ability to cover pimples, make your eyes pop and play around with lipstick colors. Which would win? Which would you rather do?
Of course, this is just a silly "Would You Rather" feature, not a serious question. I'd still prefer some less stereotypically girly options, though — what about choosing between forks and spoons? Snakes and lizards? Internet and refrigeration? Truth and justice?
These concerns aside, giving shit up is an ongoing lady-news theme. Back in March, the "energy-based" face-lift company Ulthera claimed that 32% of women they surveyed would give up sex to look younger (35% "would even forego shopping"). And last week, a British survey found that 16% of undergrad women would give up a year off their lives in exchange for their "ideal body weight and shape," while 8% would give up a work promotion.