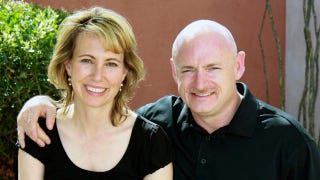 For months since the Arizona shooting, we've heard new details about Gabrielle Giffords that seems to suggest she's making an incredible recovery. While it's true that Giffords has been making great progress, a Newsweek feature suggests her abilities may have been exaggerated in the media.
It's a miracle that Giffords even survived the attack, and it's understandable that the press and the public would be hungry for any encouraging news on her condition. But while speaking with Newsweek, doctors, friends, and family members stressed that the fantasy of Giffords running for Congress soon is probably unrealistic.
Earlier, we learned that for months Democrats have been mulling the idea of Giffords making a run for Jon Kyl's empty Senate seat in 2012. She had already filed as a candidate, and the possibility that she could run has been floated by her staffers and colleagues. Many seem enthused by the political clout she has in Arizona and the rest of the nation, but even if a Congresswoman wounded on the job is essentially unbeatable, the fact remains that it's very unlikely that Giffords will be able to campaign as early as next year.