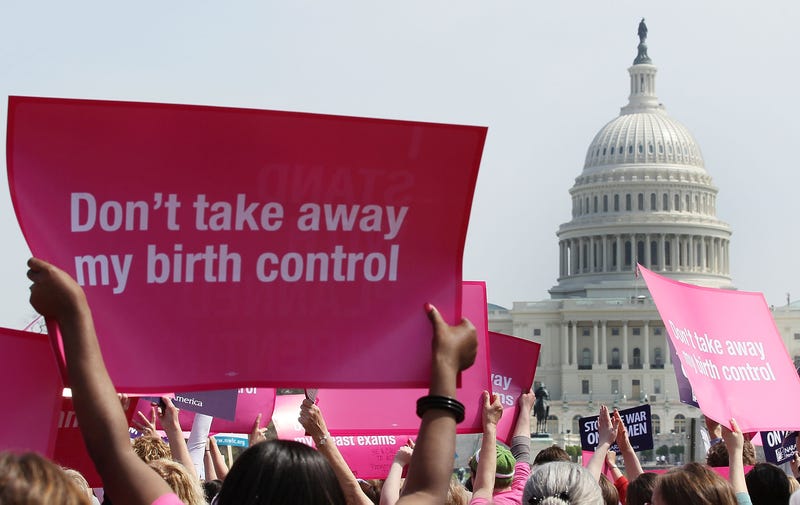 Dear women of America: Your birth control pills and STI testing are about to shut down the government. But not your abortions.
Incredibly, it's come to this. At 3am this morning, talks between parties broke down, and Democrats claim the major impasse is over federal funding for Planned Parenthood's women's health services, and not cutting any particular amount. Funding for the government runs out at midnight.
The Times reports this morning that "attempts to resolve the disagreement through alternatives like allowing a separate floor vote on the issue had not been successful. Democrats said they were told by the Republicans that the votes of anti-abortion social conservatives would be needed to move any budget measure through the House."
And Senate Majority Leader Harry Reid said openly yesterday that this is not about money, it's about your uterus and how much Republicans can pollute: "We've been close on the cuts for days. The only things — I repeat, the only things — holding up an agreement are two of their so-called social issues: women's health and clean air."
So it's capitulating to the far-right wing of the House Republican Caucus, apparently, on these policy riders, or a few billion dollars, per Talking Points Memo: "According to one top Republican aide, they've drawn the line at $34.5 billion in cuts to current spending."
Republicans want this to be, at least in part, about abortion. They want to say that Obama let the government shut down because he won't rein in spending and stop women from going on abortion joyrides. And plenty of mainstream news sources have bought into that wholly, including the Times (headline: "Latest Talks on Budget Fail in Deadlock on Abortion").
But, in the fact-based sense, it's not, unless you count the tiny provision that would ban the District of Columbia from using local taxes to help women in Washington D.C. seeking abortions.
Since it needs to be said again: Federal money to Planned Parenthood and other family planning clinics goes to providing contraceptive services, sex ed, STI and HIV testing, and cervical cancer screenings. The Hyde Amendment prohibits federal funding to abortions.
Republicans argue that federal funding helps "keep the lights on" at Planned Parenthood, which, it has actually been said by a congressman, "kills children for profit." (Also, since it needs to be said again: Abortion is a legal, safe procedure). They haven't bothered to offer an alternative to the vast majority of non-abortion-related services offered by Planned Parenthood and other Title X clinics.