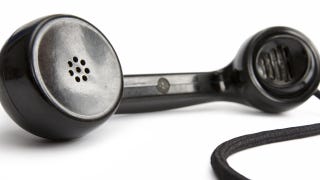 Look, we all know the phone is scary. But sometimes you can't avoid it. Herewith, a few tips for making calls without sounding like a weirdo.
Decide if you really need to call.
There's a reason kids today never call each other anymore. Actually, lots of reasons. For one, unless you are a creeper (or a journalist) and you tape your calls, you have no record of your conversation. It's also hard to hear. So if what you really need to do is get some specific data across, text or email can be a lot better. This is especially true of addresses, and anything that's difficult to spell.
Also, the phone is awkward, especially with people you don't know very well. It's hard to know how to interpret pauses, people talk over each other, and there are so many opportunities to flub pleasantries ("Hi!" "Good." "What?" "I mean I'm good, how are you?") without the potential to play them off that in-person contact affords. So I know I'll get some argument here, but I think it's totally fine, and perhaps even preferable, to schedule first dates by text or email. Same goes for hanging with a new friend or having coffee with a business contact. Unless you love the phone, go ahead and make life easy on yourself.