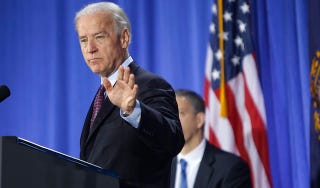 Vice President Joe Biden and Education Secretary Arne Duncan kicked off Sexual Assault Awareness Month with an appearance at the University of New Hampshire, issuing a new set of guidelines for all colleges and universities receiving federal funds.
You can read the guidelines in full here, but here's the gist:
Under the Education Department guidelines, schools informed about sexual harassment or violence must take immediate action to stop the abuse and prevent it from happening again. Regardless of whether a victim files a complaint, the school must investigate the incident, even if a criminal investigation is underway.

Schools must also have sex discrimination policies in place and an employee responsible for managing the institution's compliance with Title IX, the law that prohibits discrimination based on sex in education programs. Sexual violence is included in the definition of that discrimination. Finally, schools must make procedures for filing complaints based on Title IX violations clearly available.
These aren't new rules; they're clarifications or confirmation of existing policies — the same ones that Yale is currently being investigated for violating.