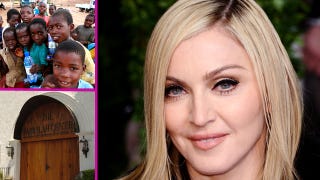 Since it was announced that Madonna's charity Raising Malawi will not be building a school for girls in the impoverished nation and is in financial ruin, the story has been shaped by Madonna and the Kabbalah Centre's PR firms. But in a new expose, Newsweek catalogues the Kabbalah Centre's long history of deceitful practices, which may even include stealing money intended for orphans.
The article notes that some have labeled the Centre "Jewish Scientology," and it's easy to see why. Like Scientology, it was founded just a few decades ago by a man with dubious credentials. The Kabbalah Centre was established in 1969 by Philip Berg, a life insurance agent, and his wife Karen. Today Karen controls the Centre's daily operations along with their sons Michael and Yehuda. Their 77 centers and study groups have popularized, and some say distorted, teachings that were once reserved for Talmudic scholars.
The Bergs live lavishly on Centre funds and some of their household services are performed by "chevre, center members who take a vow of service and are supplied with basic necessities in exchange for 12-hour days of labor." They sound eerily similar to the Sea Org members that were painted as slaves forced to detail Tom Cruise's many vehicles in the recent New Yorker profile.
Also, while the organization claimed on a 1998 IRS seeking tax exemption as a church (though the Centre's website says, "Kabbalah is not a religion."), that the Bergs have "taken a vow of poverty," Newsweek reports:
Four of the five Berg families live in Beverly Hills mansions owned and remodeled by the center. Building permits alone on three of the Berg homes total $1.4 million. Karen and Philip's house, the third the center has provided for them in the past decade, boasts a $30,000 swimming pool. The center routinely pays the expenses accumulated on Karen's credit cards, which include a personal AmEx card with a $31,000 limit and, in the past few years, three Bank of America cards with a combined $81,000 limit. The center covers the Berg families' food, furniture, clothing, gas, nannies, tutors, gardeners, housekeepers, personal assistants, and more exotic indulgences such as luxury cars, first-class flights, and spas. The Bergs' lavish lifestyle, one executive says, is "100 percent subsidized."
Of course, none of this is clearly spelled out on tax forms. Newsweek attempts to unravel the Centre's finances, but all that emerges is that millions of dollars were shuffled into different accounts or simply vanished. One recent suit claims the Kabbalah Centre was the beneficiary of a $70 million Ponzi scheme, and there are several other suits accusing the organization of swindling wealthy followers. It seems most surprising that it's taken the IRS so long to investigate the organization.