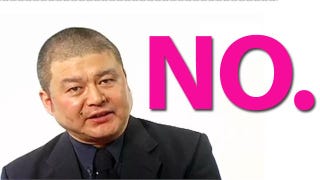 Evolutionary psychologist Satoshi Kanazawa has made it his mission to oppose feminism, which he defines as "the radical notion that women are men." His latest column — on why all women are essentially prostitutes — inspired us to take a look back at his mansplaining oeuvre.
On happiness
Back in 2008, positive psychology was big. Not to be left behind, Kanazawa took to his Psychology Today blog to explain how all people could be happy. Here's how:
Money, promotions, the corner office, social status, and political power are what make men happy (as long as they win, of course, but then dropping out is by definition a defeat). Spending time with their children is what makes women happy.
This has larger policy implications:
What can evolutionary psychology tell us about what we as a society can do so as not to repeat the Swedish mistake [Swedes are not as happy as Danes] and make our citizens happy? The best thing to do is to kill all the feminists and hippies and liberals.
On why shit gets done
Says Kanazawa,
In all species in which the female makes greater parental investment than the male (such as humans and all other mammals), mating is a female choice; it happens when the female wants it to happen, and with whom she wants it to happen, not when and with whom the male wants it to happen.
Apparently Kanazawa is not familiar with rape. Moving on:
In reality [...] women do often say no to men. (In my experience, they always do.) This is why men throughout history have had to conquer foreign lands, win battles and wars, compose symphonies, author books, write sonnets, paint portraits and cathedral ceilings, make scientific discoveries, play in rock bands, and write new computer software, in order to impress women so that they will agree to have sex with them. There would be no civilization, no art, no literature, no music, no Beatles, no Microsoft, if sex and mating were a male choice. Men have built (and destroyed) civilizations in order to impress women so that they might say yes. Women are the reason men do everything.
Here Kanazawa neglects the achievements of, say, rumored lifelong virgin Isaac Newton. He also repeats this popular canard:
If a woman — any woman — wakes up in the morning and says to herself, "Tonight I will get laid," the prediction will always come true every time. Such is the power of female choice.
On President Coulter
During the 2008 primary, Kanazawa proposed his own candidate: