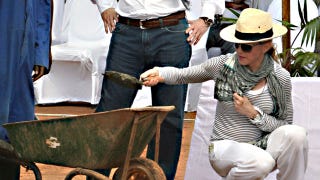 For years, Madonna has been raising millions to start a school in Malawi, and she even participated in a groundbreaking ceremony. But today The New York Times reports that plans have fallen through due to horrible mismanagement.
All the directors of Raising Malawi have been tossed out and the charity is currently being run by a caretaker board, which includes Madonna. Two individuals are being blamed for squandering $3.8 million on the project: Anjimile Oponyo, who was selected to be the head the Raising Malawi Academy for Girls last year, and Philippe van den Bossche, who was executive director of Raising Malawi from 2005 until October 2010.
In November, Madonna had the Global Philanthropy Group examine the organization. The group's report accused Van den Bossche of "extreme" mismanagement and lack of oversight in both constructing the building and developing the curriculum for the planned $15 million school for 400 girls. The Times reports that this, "included what auditors described as outlandish expenditures on salaries, cars, office space and a golf course membership, free housing and a car and driver for the school's director." Fun fact: van den Bossche just happens to be the boyfriend of Madonna's former trainer Tracy Anderson! It's hard to believe, but the woman who's been accused of hiring uncertified trainers and other financial misdeeds may be dating shady character.