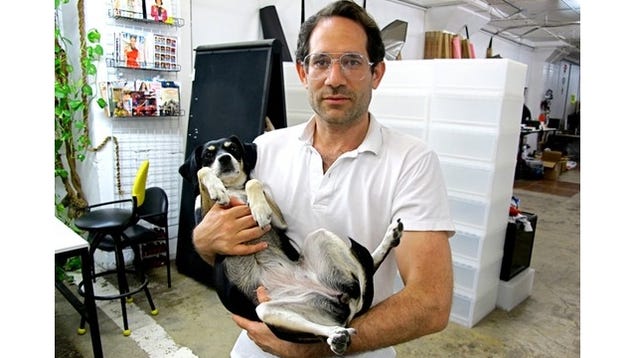 American Apparel just missed another financial filing deadline, and for the last period for which the company has made results available, the numbers are not good: during the first nine months of 2010, American Apparel lost $67 million, and same-store sales fell a whopping 14%. (Same-store sales have now been falling at the troubled chain for over two years.) Dov Charney, naturally, still believes his company can be saved. "If we can increase top-line sales by 10 percent at our own stores, that will translate to over $20 million in EBITDA," he said, referring to earnings before interest, taxes, depreciation and amortization. (Increasing EBITDA is a key provision of the heavily indebted company's loan covenants; every time American Apparel falls out of compliance, its interest rates get jacked up and its lenders get to call more shots.) See! A hypothetical 10% jump in sales would solve all Dov's problems! "Staff's job is to get some gelt into those stores." Oh, Dov. "In the words of that old Yiddish proverb: 'Get me an order. Everything else will take care of itself.'" [WWD]
Right now, because of the latest missed filing deadline for its full-year 2010 results, American Apparel is again courting the risk that its stock will be de-listed. The company says it will have 2010 numbers by March 31, and revised 2009 numbers — yep, it still technically hasn't filed those, either — by April 10. But if its stock price sits below $1 for more than 30 days, that would also trigger de-listing. American Apparel is currently trading at 93 cents a share. [BNet]
---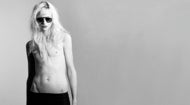 Male model
Andrej Pejic
, whose long blond hair and delicate features have led many designers to cast him to model
women's wear
, says the attention his look has attracted "is nice because it's offering me a wide array of opportunities. But
sometimes I do just have to stop and hit myself in the head with my diamond-encrusted vase."
When asked about
Lea T.
, the transsexual
Givenchy
campaign model, he replied: "I don't think my situation and
Lea T
's are completely different when it comes to our personal lives but that's personal, for me at least. And
I really think people should stop trying to categorize me because of their need for labels.
When it comes to our professional lives, well
she only does women's wear and I think I cover more fields.
Some people in the industry will use us in a very similar way to represent similar ideas and some will want me to be a bit different from her — more androgynous, more boyish or even sex-less rather than womanly. I think professionally I am capable of being very versatile." [
StyleCaster
]