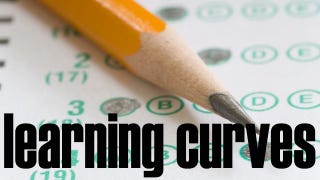 Dissatisfied with standardized testing in schools, some parents are taking their kids out of the game. But this does a disservice to everybody else.
CNN profiles Michele Gray, who used a religious exemption to get her kids out of the annual tests mandated in her state of Pennsylvania by No Child Left Behind. But it wasn't actually religion that motivated her — rather, she says, "The more I look at standardized tests, the more I realize that we have, as parents, been kind of sold a bill of goods." She got some of her inspiration from Timothy Slekar, who complained in a Huffington Post piece about his son's test-centered schooling:
He sits in social studies and science classes that have been shortened to allow more time for reading and math instruction. He hasn't been given the opportunity to engage real children's literature. His reading teacher is clueless about his interests. Five months of drudgery. How much can he take before just the thought of going to school immobilizes him? There is real damage being done. Something has to happen before my son loses all curiosity.
Some of the lesson's Slekar's son learned as part of his "drudgery" — like finding the main idea of a paragraph and dividing fractions — don't sound so bad. And not everybody's ready to jump on the anti-test bandwagon. Writing in the Daily Beast, Amy Chua (of "Tiger Mother" fame) explains how preparing for the SAT taught her the value of practice. She even challenges the idea that testing kills creativity, arguing that "being able to scramble under pressure and think when caught off guard is part of what the SAT is testing for — and that's a good thing."