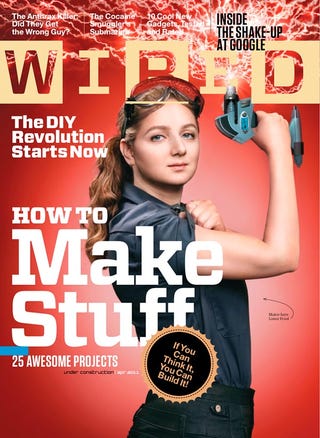 This is the cover for the current issue of Wired magazine. The woman on the cover isn't just a model in the traditional sense: She's Limor Fried of Adafruit Industries, and very possibly the first woman engineer to grace the cover of Wired. And she looks good on it. So, some people freaked out.
Why did they freak out? Well, here's what Good magazine immediately screeched out:
Wired didn't put Limor Fried on their new cover. What Fried actually looks like is below—she's a normal young woman with a lip ring and an abnormally strong brain, and that's worked wonders for her her entire life. What Wired put on its cover is an almost cartoonish Photoshop that caused one friend to look at these photos next to each other and ask, "That's the same woman?"
Good's photo of what Fried "actually looks like" is in fact "a 3+ year old photo of me in Japan, after a 20 hour flight and short hair," Fried wrote in after Good's original post. She adds:
The cover is stylized but that is really what I looked like. I was not 'plasticized' or 'heavily photoshopped'. if I take off my glasses, have my hair done, and wear make-up its what I look like. [sic]
Okay, there's a lot going in this little mess. First, as Good points out, and one of the major reasons they jumped to the conclusion that Fried was Photoshopped beyond recognition is that, well, the magazine industry does this a whole lot. Which is bad, for a lot of reasons—promoting unreasonable beauty standards, etc., which Jezebel explains at length here. (Fried notes the photographer merely "uses lighting and makeup to create a glossy look" that's her trademark style; the photo is also referencing Rosie the Riveter, as tons of people have pointed out.)