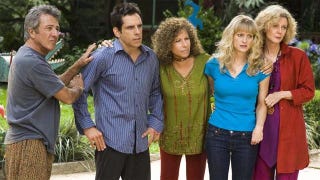 Meeting your partner's parents for the first time is notoriously stressful. But if you keep a few tips in mind, your first encounter can be less like a crappy Ben Stiller movie, and more like the start of a good relationship.
Do your homework.
As in so many situations, you'll probably have an easier time with your significant other's parent or parents if you find out a little about them beforehand. I talked to Dr. Ruby Payne, author of Crossing the Tracks for Love: What to Do When You and Your Partner Grew Up in Different Worlds, who says,
Ask your partner for a good memory of his/her parent(s) and a memory that helped them realize that the parent was a human being. That will give you insight into the parent and how the partner sees him/her self in relationship to the parent. Also, ask your partner if there is anything that would be helpful to know - ex: a handicap, idiosyncrasy, habit, political bias, religion, etc.
Eden Unger Bowditch, author of The Daughter-in-Law's Survival Guide and The Atomic Weight of Secrets, adds that doing a bit of recon on parents beforehand can also help conversations go more smoothly: "Find out what they do and like before you meet them." In general, knowing some basics about your partner's parents' lives and values ahead of time can relieve some of that first-meeting uncertainty.