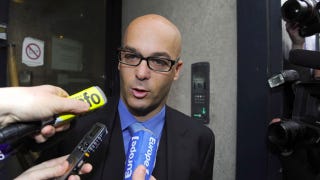 The designer who so memorably told two strangers, "I love Hitler. People like you would be dead. Your mothers, your forefathers, you'd all be fucking gassed," may be at an undisclosed location, receiving treatment for alcoholism, but his French lawyer has oh so very many things to say on the record to Israeli news site Ynet.
Why give an exclusive to a random Israeli website? Because he, lawyer Stephane Zerbib, is Jewish, see! (The piece is helpfully headlined, "Galliano's Jewish Lawyer.") And obviously no Jew would ever stand up for anti-Semitism, duh, so this whole thing must be some kind of misunderstanding.
Zerbib says he's received death threats for defending Galliano as he attempts to fight charges of using anti-Semitic hate speech and assaulting a couple in a Paris café. "Some people call me anonymously, swear at me," says Zerbib. "There are always those people who make a fuss but it's very easy to judge without knowing the case." Zerbib also claims, "Galliano is not a racist or an anti-Semite."
Your client is accused of making rather harsh anti-Semitic comments. What is your explanation for this?

"I have no explanation. It could happen to any one of us. Anyone can go to a bar, drink a little and get into a fight with someone."

So alcohol is to blame?

"It's alcohol mixed with medications. You're very vulnerable when you're in this state. People who don't know the case can afford to say things and they all have opinions. It's easy to talk, criticize, be appalled. But these people don't know what really happened."
When asked about the infamous "Hitler" video — which dates from a separate incident, different from the two other incidents that French police are investigating as criminal matters, for one of which Galliano has already been charged — Zerbib replied the he found it upsetting "of course, but it's not part of the trial."