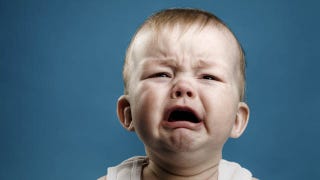 In what the NY Times terms a new "front...in the breast-feeding wars," a breastfeeding boutique is locked in combat with the real estate gods of Gotham.
Upper Breast Side, founded by former police officer Felina Rakowski-Gallagher is, she says, much more than a mere store for pumps and nursing bras. Rather, it's a "community facility" that provides much-needed support and advice to new mothers navigating the often-intimidating world of breastfeeding. The Times describes the store's activities:
In addition to selling gear, the Upper Breast Side refers customers to lactation consultants and doctors; hosts a weekly "latch-on clinic" for women struggling to get their babies to, well, latch on; and matches up customers with properly fitting bras. At a counter referred to as the "milk bar," bleary-eyed new mothers and their partners learn how to work a pump (the session is free if they buy one, $50 if not).
But all is not peaceful and loving with the buiding's condo board (ironically, built decades ago as a men's-only facility.) They've slapped UBS with a fine for leaving its door ajar; Rakowski-Gallagher hit back with a discrimination suit — the door was too unwieldy for mothers with babies and strollers — and won. Now, the board claims that the business has violated the condo's rental terms: the space is designed to house not shops but medical services, and UBS, they say, skews too much in the former camp.
Rakowski-Gallagher, meanwhile, feels the two are inextricably bound — and that providing cool nursing gear is yet another necessary service. In her words, "Are you going to nurse in something that looks like a stretched-out athletic sock, or do you want to wear a completely blinged-out HOTmilk or Marlies Dekkers nursing bra that looks just like what Lady Gaga wears? Nursing is normal. And normal means that you can be really gorgeous." (For legal purposes, she'd do well to keep lactating and Gaga out of the same sentence.)