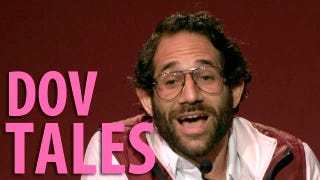 Now that Dov Charney's being sued — or, as he believes, extorted — for sexual assault (to the tune of $260 million), let's take a look at his past pervitudes, meltdowns, questionable management practices, and brushes with the law.
June/July 2004
In a soon-to-be notorious Jane profile of Charney, Claudine Ko wrote,
Soon enough, he loosens his Pierre Cardin belt. [...] thus begins another compulsive episode of what Dov likes to call self pleasure, during which we casually carry on our interview, discussing things like business models, hiring practices and the stupidity of focus groups.

"Masturbation in front of women is underrated," Dov explains to me later over the phone. "It's much easier on the woman. She gets to watch, it's a sensual experience that doesn't involve a man violating a woman, yet once the man has his release, it's over and you can talk to the guy."
July 2006
An anonymous former employee told Dateline "It was understood that Dov was looking for sex almost constantly. [...] He was looking for sex from his employees." Six other former employees backed up his account. By this time, three women had sued Charney for sexual harassment. Two settled — the third was Mary Nelson, who sued Charney for a "reign of sexual terror" that included taking meetings wearing only "a garment described as a 'cock sock.'"