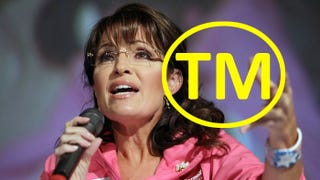 Sarah and Bristol Palin have both submitted trademark applications for their names. The process has already hit some snags, but if it succeeds, we're looking forward to a variety of Palin-brand products!
According to Politics Daily, the Palins both applied for trademarks in the fall. If the applications go through, Sarah Palin's name would be a registered trademark in the areas of "information about political elections," "providing a website featuring information about political issues," and "educational and entertainment services ... providing motivational speaking services in the field of politics, culture, business and values." Meanwhile, Bristol, the Brand would apply to "educational and entertainment services, namely, providing motivational speaking services in the field of life choices." There are problems with both applications — neither is actually signed by the applicant, and the Patent Office says their examples of trademark use are insufficient (Sarah Palin's examples are merely screenshots of websites where her name appears). Nonetheless, as Politics Daily's Suzi Parker notes, the Palins are masters of branding, and we have no doubt they'll eventually triumph over those stodgy Patent Office pencil-pushers. And while we know their trademarks will only apply to political campaigning and public speaking, there are a few consumer products we'd like to see:
Bristol Palin Dancing Shoes
Slip on a pair of these babies, and you won't need vote-fixing to come out on top! Could be manufactured by Candie's.