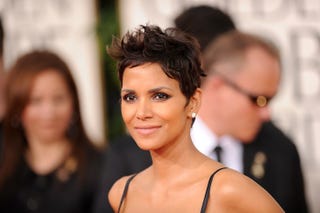 Now that Halle Berry's embroiled in an increasingly nasty custody battle with her ex Gabriel Aubry, "experts" have diagnosed her problem: daddy issues.
Berry's camp is saying she pulled out of New Year's Eve (replacement: Katherine Heigl) in order to deal with custody issues, and her rep said in a statement that Berry has "serious concerns for her daughter's well-being while in the care of her father for any extended period of time and is prepared to take all necessary steps to protect her." Aubry's former business partner told People that "once they broke up he became verbally threatening to Halle," and that "he is a vindictive guy." And a source told TMZ that Aubry called Berry a "fucking bitch" and used the n-word.
Of course, as in all custody battles, there are (at least) two sides to this story, and Aubry's modeling agency released a statement saying that "Gabriel is a caring father who shares custody of Nahla" and "Halle's continuing allegations in the press are untrue and irresponsible." Amid all the he-said-she-said, though, ABC has chosen an odd angle — basically, why does poor Halle Berry always pick the wrong guy? They offer some hearsay from People writer Joey Bartolomeo:
It seems like she has a history of picking the wrong men for herself. Her marriage to David Justice was very troubled. After that marriage broke up, she was damaged by the whole relationship. Then she married Eric Benet, and that seemed to be a great thing for her — she was very happy, he had a daughter, they were raising that daughter together, then they split up and there was talk that he had been unfaithful.
Then there's some speculation from the proverbial shrink-who-does-not-treat-Berry: apparently the star "might be searching in vain for a father figure, not just for Nala but also for herself." Says psychoanalyst Wendy Lee Walsh, "She's going to pick the men who provide the most challenge — the men who can't love, the men who are emotionally absent. These are the quote-unquote perfect mates for her kind of attachment style." Though some psychologists do point to attachment difficulties as a cause of relationship problems, we really have no evidence Berry suffers from these. Apparently, though, all a media outlet needs to diagnose a case of Daddy Issues are an absent father (Berry was raised by a single mom) and a few breakups.