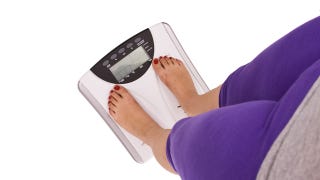 Last month an FDA advisory panel recommended lowering the B.M.I. requirements for gastric lap bands from 35 to 30. Now some doctors say this could turn the serious procedure into another quick-fix weight-loss method. Saw that one coming, didn't you?
According to current guidelines, the surgery is appropriate for people who haven't had success losing weight through diet and exercise if their BMI is 40 or above, or 35 and above if they have health problems like diabetes or hypertension. The New York Times reports that Allergan, which makes the Lap-Band, wants to lower those numbers to 35 for those with no health problems, and 30 for those with health complications, which wouldn't have to be as severe. A company executive estimated that 27 million American have a BMI of 30 to 35 with at least one associated health condition.
One obvious problem with these new guidelines: Doctors have recently admitted B.M.I. is bullshit. One member of the panel, Dr. John G. Kral, argued that this is precisely why the requirements should be lowered. "The B.M.I. criterion is so seriously flawed," he said. "Removing this barrier of this idiotic number in itself would be an important step."