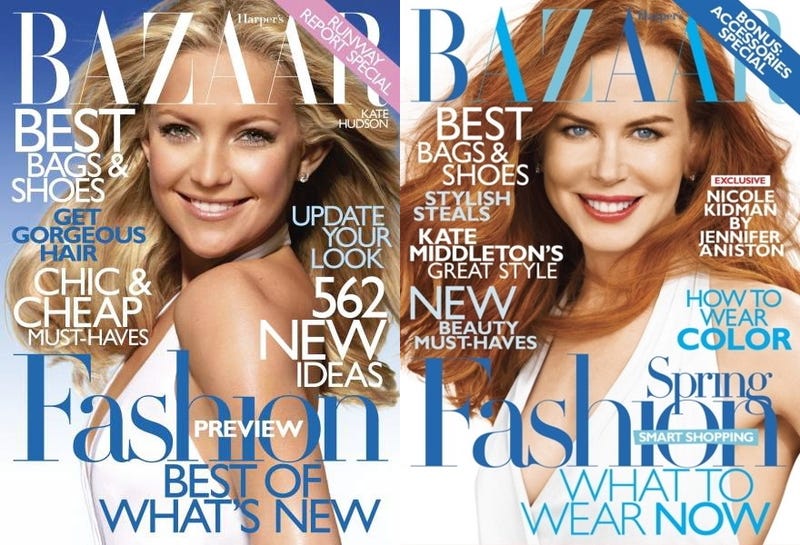 "Glenda, we have a problem with the new cover."
Glenda Bailey: "A problem?"
Editor: "Um, it's come out looking just like last month's last January's."[*]
Glenda Bailey: "How so?"
Editor: "Well, somehow we styled the hair the same, and they're wearing practically the same dress — fuck, we even repeated a cover line. 'Best Bags & Shoes.' You always need those, right? Ha, ha!"
Glenda Bailey (sharply): "But that's the dummy text! It's supposed to get swapped out for something punchier, more topical. (sigh) I simply don't understand how you could let this happen. For two such talented and unique women to look so identical on our magazine. Nicole Kidman. And Kate Hudson. They look nothing alike in real life!"
Editor: "Well, you know, it's hard, coming up with new ways to photograph actresses. Who knew Peter Lindbergh and Alexi Lubomirski would have such similar approaches?"
Glenda Bailey: "That doesn't explain the identical blue-and-white text, the pose, the cropping, the 96-point word 'Fashion' written in the exact same shade of blue..."
Editor: "We added 'Spring' to the Kidman cover. 'Spring Fashion.'"
Glenda Bailey: "I'm aware of that."
Editor: "It's not like we can just put anybody on a cover. We're limited in the actresses we can approach, who are right for our audience, who have the right kinds of projects to promote — and you know their people always need approval, and then half of them have pre-existing relationships with luxury brands that kind of tie our stylists' hands. And of course we have to do everything we can to shoot advertisers."