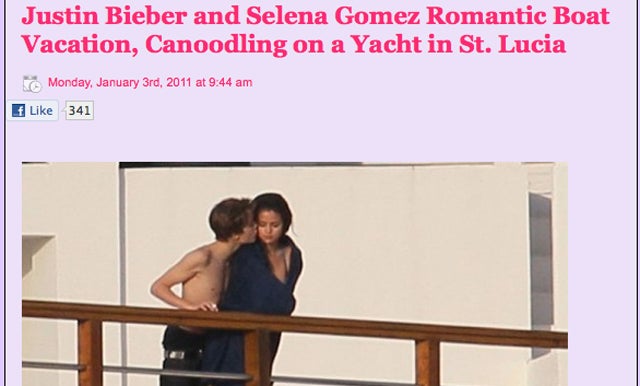 S
Over the weekend, photographs of Justin Bieber and Selena Gomez cuddling on vacation in the Caribbean surfaced. The display of unbridled teen romance irked Bieber fans, who decided to send Selena death threats via Twitter.
Ms. Gomez, 18, an actress, singer and UNICEF Goodwill Ambassador, is best known for playing Alex on the Emmy Award-winning Disney Channel series Wizards of Waverly Place. (The premise: an Italian-Mexican family living in New York have secret powers!) Mr. Bieber, 16, a Canadian pop crooner, is a certifiable teen heartthrob. Millions of girls would like to believe that he is single and that they have a shot; being photographed with an older woman has sent these youngsters into a rage.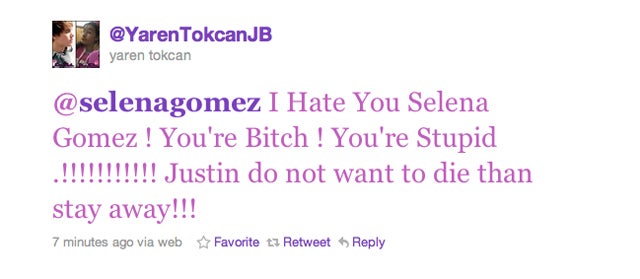 S
The tamer messages just deal with "hate" and how Selena is a "bitch." Justin may die, but it's hard to tell why.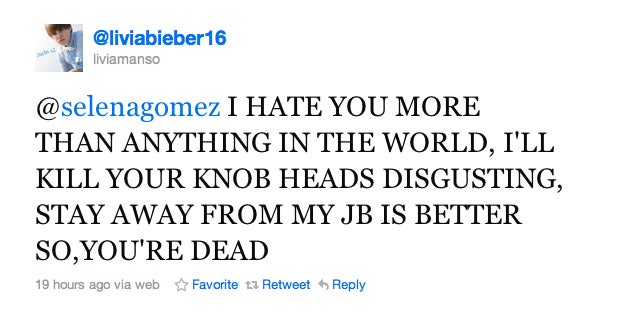 S
"I'll kill your knob heads disgusting" is one we haven't heard before, but there's nothing unclear about "you're dead."

S
"I kill you." Succinct.

S
Here, religion enters the conversation. An oath is an oath.

S
And "repent" is always a nice touch.
S
And in a reversal, we have a Selena fan cursing out The Beebs. Equal opportunity teen star hatred!