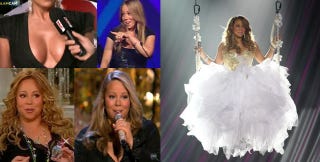 Whether it was making a drunken acceptance speech, pretending she didn't fart on TV, or showing off the twins in her belly or the twins in her bra, Mimi has had a miraculous 2010.
10.) She rang in 2010.

I went to see Mimi at Madison Square Garden on New Year's Eve last year for a performance that was drunk, sloppy, fun, and most importantly festive—which is exactly how NYE should be. After the countdown there was So. Much. Confetti.




But she still wanted more.




She probably spent just as much time on stage banter as she did singing. And when I say "banter" I mean "complaining about shit," from her mic pack situation to how her shoes hurt. It actually only increased the entertainment value of the evening. Nick Cannon was DJing on stage, and he kept telling her how sexy she was every time she whined about feeling fat. That's their dance, I think. And I like it. As long as he keeps complimenting her, these two are gonna last forever.


Mimi continued her tour after NYE, which involved this.