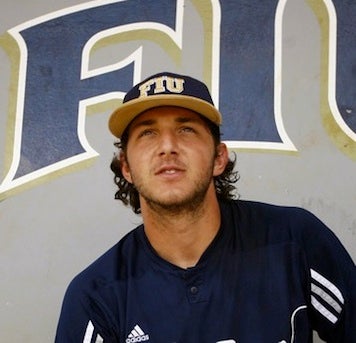 A group of friends from Miami, one a star NCAA baseball player, has been charged with the rape of two seventeen-year-old girls. Given that it involves athletes and girls getting drunk, brace yourselves for an extra-ugly fallout.
Garrett Wittels, a Florida International University student who is "on the verge of breaking the record for the longest NCAA hitting streak," and four other friends, all 21, were arrested last week after events that took place at the Atlantis Resort in the Bahamas on December 20. An anonymous source told The Miami Herald that security footage shows the girls sitting at a bar, "drinking and kissing one another, before gesturing to the suspects to join them."
The source — about whom we know nothing — also said, "They drank too much. They went to the guys' room. The girls were together. The girls are saying they can't remember anything,'' the source said. Also, according to the paper's paraphrase, "One of the girls threw up on herself, and was given a T-shirt to wear by one of the young men." When the girls came back to their hotel room, one of their fathers called the police.
The age of consent in the Bahamas is 16, so that's not an issue. Let's say for the moment that events did unfold as described. We get that it can be difficult to draw lines around alcohol and consent, especially if the guys themselves were drunk, but here's a hint: If a seventeen year old girl vomits all over herself and you have to give her a new t-shirt before engaging in sexual activity, she is, perhaps, too drunk to consent to sex. Call us crazy! We're like the Saudi Arabia of blogs. Or something.