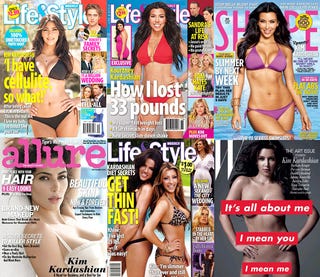 This year you may have asked yourself, why the hell are the Kardashians on so many magazine covers? The answer is simple.
Because they sell.
According to WWD,
Shape had its best-selling issue of the year in June on newsstands, with [Kim] Kardashian on the cover. The reality star appeared on Allure's September cover, which marked its third most popular seller of the year, and most recently, W made a splash by featuring her naked on its November art issue. W's Kardashian buzz led to its second highest seller of the year (tied with Megan Fox in March).
It's not hard to figure out why some people find the Kardashians so appealing: They're gorgeous, they have killer bodies, they've got wealth and drama and a close-knit family, like characters from a glamorous mini-series. But even more important is the fact that the Kardashians are accessible. While other "real" celebrities crave privacy and shun the paparazzi, the Kardashians offer themselves up for public consumption. Thanks to this willingness to overshare, we have seen one sister waxing another's labia; we know that Kim's entire body is hairless; and that Kourtney's husband thinks Khloe's real dad was the pool boy.