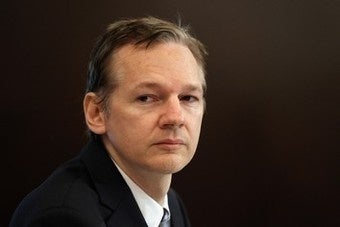 "Sweden is the Saudi Arabia of feminism," Julian Assange has said in a recent interview. "I fell into a hornets' nest of revolutionary feminism." And there's something the Guardian left out of its report on the accusations against him.
The knee-jerk defense of Assange against sexual assault charges has often hinged on painting Sweden as a haven for feminists gone amok, and now we see Assange himself eagerly seizing on that narrative.
He's also perfectly willing to argue that because they were interested in having sex with him, they had consented to everything. Assange told The Sunday Times Of London that Ms. A let him stay in her apartment for days and hosted a party for him, and Ms. W came to lunch wearing (and this is a newspaper paraphrase) a "revealing pink cashmere sweater, flirted with him, and took him home."
According to the paper — presumably drawing on unpublished portions of the police report — when she woke up to find him penetrating her, she asked him if he was "wearing anything." He allegedly replied, "I am wearing you."
(The Guardian, which first published portions of the police report, left this out; the reporter who did so originally brokered the deal with Wikileaks and has been described as a friend of Assange's, and his own editor said he had "left out a lot of graphic and damaging material in the allegations because he thought it would be too cruel to publish them.")